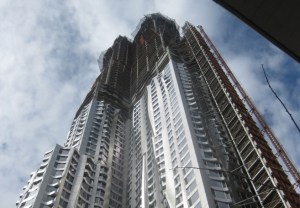 Walking down Stone Street on a recent Monday, Angela Tai, tired of the presumption that everyone living in the Wall Street area is sporting a bugaboo, gestured around the cobblestone road bloated with bar patrons. "Look at these people, they don't have fucking kids!"
It's true—the demographics of Manhattan's oldest neighborhood are more complicated than that.
Since its inauguration in the last couple of years as the epicenter of young yuppie families, marketers, developers and other real estate types in the Financial District have sought to mold it as all the more a toddler-oriented mecca, a sort of southern Tribeca for clans that can afford it. Stuff like the $4.5 million Imagination Playground and good public schools continue to attract families, not to speak of the perks anyone can enjoy: safe, European-feeling streets that are quiet as soon as the closing bell rings. But what about the young single holdouts? Well, they're having fun holding down the fort. After all, 4-year-olds are not enjoying a roof-deck with bar. And someone has to meet all those single doctors and bankers.
Ms. Tai, a straight-shooting creative recruiter originally from Taiwan, has lived at 2 Gold Street for nearly five years. She believes each FiDi high-rise has its own identity. Her building is in the mid-range—somewhere between a veritable nursery school (99 John) and a scene along the lines of midtown meat-market 230 Fifth Avenue (200 Water Street). "Two hundred Water is like a high-end dorm," says Ms. Tai. She and her boyfriend were shown an apartment there, before they settled on 2 Gold, that was "totally trashed" in the wake of some Hendrix-inspired hipsters' departure. At the opposite end of the spectrum, "99 John is like divorced editors, ad-agency veterans." It has the most in the way of family infrastructure. And 2 Gold, the happy medium, is people like her: childless, but with some money—and dogs. "Lots of second-year analysts," says Ms. Tai. "It's not too youth-oriented, but they did ask if we had guarantors."
The "baby boomlet," as The Times called it in 2009, seems to have crested in FiDi, with luxury rentals now more likely to be converted to hold roommates than playpens. The singletons have stood their ground.
Maxim Berger, a 22-year old recent graduate of N.Y.U., lives at 200 Water, which actually is a former college dorm. He agrees with Ms. Tai's assessment of the building. "There are very few families. I'd be kinda weirded out if I saw people with, like, a 10-year old child living here."
The house-warming party he threw on the roof attracted 200 to 300 people. Is it a party building? "It is. It definitely is," says Mr. Berger. And the no-stress move-in is crafted for the young as well. The broker found Mr. Berger a roommate of the same age and a company to build out the one-bedroom apartment (similar units in the building, Mr. Berger says, go for between $2,300 and $2,800) into a still-comfortable two-bedroom.
This is not uncommon. Another building, 85 John, has a less intense reputation but still caters to baby yuppies and offers the same service. Corina Gonzalez and her roommate have lived there for two years in a similarly converted unit. Though slightly older, the crowd is mostly twenty-somethings in search of no commute. "Everyone is pretty close to… me," says Ms. Gonzalez of the demographic. She works for a ratings agency. "You get more for your money in these high-rises." And she heads over to 200 Water to grill on the roof with friends that live there. If she moves in with her boyfriend, though, he is pushing for a huge change of scene: to Battery Park City. "That," says Ms. Gonzalez, "is as close to suburban as you can get in this city."
NOT THAT THE families have left. Over at 99 John, families live in a looming, granite wet dream of child-friendliness, according to residents. Sarah Elbatanouny, 37, finds the building's staff and amenities perfect for life with two young children. Not to mention the neighborhood: "My daughter has a big obnoxious Barbie truck, which she can drive around on the weekend. Waitstaff here are nice to people like me, with three kids who are loud!" says Ms. Elbatanouny, including her husband in the child count.
But for Ms. Elbatanouny, it's more than the fact that her daughter was able to make snow angels in the middle of her street this winter. "The most important thing is, everybody's not stuck up," she says. FiDi feels like it houses "Manhattan's middle-class, which I know is an oxymoron."
But is it? Compromising on cool so your kids can attend great schools—P.S. 234 in Tribeca is often called the best in the city, Frank Gehry's glass tower will house an elementary school—seems a classically sensible sort of middle-class decision. And having families around benefits the neighborhood's singles. "I'm not worried about gentrification because in New York [in an odd reversal] families make a place affordable," Ms. Tai says.
Of course, at the end of the day, space is perhaps the biggest issue driving people to FiDi. Families who want to buy two apartments next to one another find it far more possible here. Ms. Elbatanouny and her husband did so, and "I would have to pay double anywhere else," she says.
Kian Freitas, 33, and his boyfriend moved to 99 Gold because they have a baby grand piano, not a baby. But there were other factors: "I love not having to wait an hour and a half to have brunch," Mr. Freitas says.
The changes that began years ago for lower Manhattan are back on the table. "Before the recession it had just become a great place to live," says Mr. Freitas. Conde Nast's move downtown, Beekman Tower, the Fulton transit hub, and—someday—the World Trade Center, mean that even more new infrastructure should be going in. And young people will likely continue to move in if NYU finds its way to the World Trade Center, as Curbed has noted it is in negotiations to do.
"The city is pouring money into the area," says Ms. Elbatanouny. But there is no real fear of a price increase, since rental housing will be in huge supply at the Beekman—Manhattan's tallest rental, in fact (see slideshow tour below)—and at the soon-to-rise 40 Gold. Consensus among brokers has long been that the area is among Manhattan's most overbuilt.
And amenities for older folk keep popping up in the FiDi, such as Todd English's Libertine at the Gild Hall hotel, and Bayard's Blue Bar, brought to us by Financier Patisserie's creator. Mr. Freitas recently learned the FiDi is also home to many of the city's "houses of domination," as they are known.
It's a good balance, and the main demographics, despite disparate interests, get along fine. "There is a lot of stuff set up for kids," says Mr. Freitas, "but also bars and… apparently dungeons." What more do you need?
SLIDESHOW > LAST OCTOBER, ELIOT BROWN TOURED THE CONSTRUCTION OF THE GEHRY-DESIGNED BEEKMAN TOWER