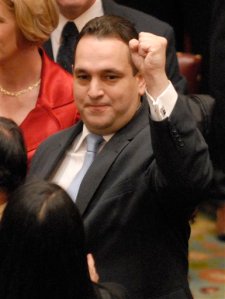 And yet, Hiram Monserrate is not going away quietly.
He invited himself to a street renaming ceremony in Queens on a recent Saturday and managed to squeeze his way into photographs by holding on to a piece of rope dignitaries pulled to unveil the new sign honoring Corona's Ecuadorean population.

As the celebration wrapped up, one guest, State Senator José R. Peralta, hollered at him: "It's disrespectful, man! It's a disgrace to Ecuador." To which Mr. Monserrate fired back, "José, get a life."

Provoking people like Mr. Peralta, a Democrat from Queens, does not bother Mr. Monserrate in the least. In fact, he seems to feed on the hostility. Mr. Monserrate's thinking is that if people are saying bad things about him – in interviews, he was called egocentric, delusional, crazy, clueless and worse – it is because he still matters.
And they have this to say about Monserrate's opponent in the race for a Corona Assembly seat, Francisco Moya:
In interviews, his supporters described Mr. Moya as a smart and loyal soldier for the Queens Democratic Party chairman, Representative Joseph Crowley. Mr. Crowley's posters are all over the windows of Mr. Moya's campaign headquarters on 37th Avenue, a narrow store situated where a clothes boutique called D-Lishus used to be.

A person close to the Moya campaign, who requested anonymity so as not to antagonize Mr. Moya or Mr. Crowley, put it this way: "Francisco took a pass whenever he needed to take a pass. He's been overlooked without complaining. Now it's his turn."
More here.