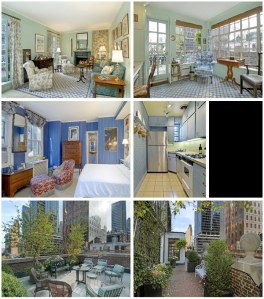 One week from today will mark the one-year anniversary of the death of legendary social scribe Dominick Dunne. The novelist and journalist whose writing often focused on the travails of the priveleged classes and their frequent tanglings with the law, lived in a one-bedroom penthouse apartment at 155 East 49th Street. Early last December, the wily Real Estalker gifted the real estate community with an early Christmas present outlining the details of Dunne's penthouse, originally listed at $1.45 million by Sotheby's Eva J. Mohr.
Then, only yesterday, city records revealed that the apartment has sold to a German couple, George and Saskia Glatzel for $1.2 million (the last listing price was $1.25 million). Mr. Glatzel is the CEO of the German commercial real estate company IFM Immobilien Group, with headquarters in Heidelberg, suggesting the über-terraced one-bedroom may function as a pied-à-terre for the couple.
The apartment may not have the lebensraum that Manhattan luxury real estate is accustomed to–the petite midtown penthouse is a one-bedroom one-bathroom with, gasp, the bathroom accessible only through the bedroom–but the wraparound terrace (of almost equal square footage to the apartment itself) more than compensates for any bedroom-crossing discomfort. The sumptuously planted terrace is accessed through beveled glass French doors and wraps around the study and living room, which boasts a real-live wood-burning fireplace.
The deed listed Dunne's son, actor Griffin Dunne, as the lead grantor of the estate, noting the younger Mr. Dunne's recently purchased apartment on Lafayette Street as his address. The deed also lists a Paul Wolfowitz as a seller of the estate but we presume this Mr. Wolfowitz is a lawyer involved in settling the famously liberal author's estate, rather than the war-mongering former Bush adviser.
Dunne's Lyme, Conn., estate remains on the market at $1.495 million.
cmalle@observer.com