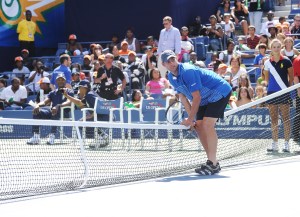 Last year at this time, Andy Roddick swept into Queens riding on a wave of goodwill. After coming thisclose to winning Wimbledon, everyone remembered Andy again! It seemed like maybe he could win a second Grand Slam last year. Then he didn't even make it into the second week. In the third round at last year's Open, he caught John Isner on the wrong day (the same guy who will be the American hero of 2010 after his Marathon Man effort at Wimbledon) and was bounced in five sets.
Since last year's Open, Roddick has done little, and after coming down with a case of mono (he's how old, again?) he hasn't entered any pre-Open conversation other than the fact that he's the highest ranking American man, at no. 9.
Roddick begins his 2010 Open run later this afternoon on Ashe, and how does Andy feel about flying under the radar?
"Obviously last year was a little bit different coming after Wimbledon and everything," he said. "But, you know, I've been in this position before; I've been in the other position before. To be honest, it doesn't make any difference to me."
Whatever works.