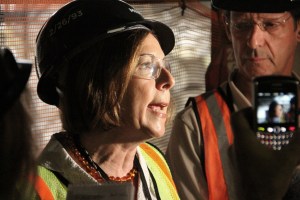 Despite years of demands that the forthcoming September 11 Memorial transform the site of the 9/11 attacks into something more than a cemetery, there will be human remains underneath Ground Zero. At a tour this morning of the subterranean cavern that will soon be the National 9/11 Museum, director Alice Greenwald pointed out an unadorned concrete wall. Behind it will be a medical examiner's office designed as a long-term home for the unidentified dead from the attack. Although closed to the public, the wall will be the first thing visitors see upon descending to bedrock: an emotionally brutal note in what is already shaping up to be a grim tourist experience.
"This is a place where murder took place, where people lost their lives," said Ms. Greenwald, straining over the roar of construction. "That's not the punchline to our story; it's the beginning."
The office will be, at least in theory, temporary storage. DNA identification technology is expected to improve over time, gradually allowing the remains to be removed and properly buried. Until the day they are all identified — assuming that's even possible — they will rest behind that wall. Since 2005 they have been housed at the medical examiner's main office, in refrigerated trailers adjacent to a small memorial park.
"That's not a very dignified position," said Ms. Greenwald, who called the trailers "totally impermanent."
Although storing the remains is not the museum's goal, that doesn't mean it can't be a teaching tool. The outer wall of the medical examiner's office, the one that will greet those entering the museum, will feature a quote from Virgil: "No day shall erase you from the memory of time." The director said she wants to remind visitors that "these people were us. The only thing separating us from them is where we were standing."
Like the rest of the planned permanent exhibition, it won't be subtle. But that seems to be the point.