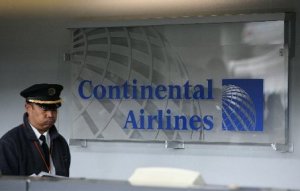 The US Dept. of Justice has okayed a merger of United Airlines and Continental Airlines. The deal is worth $3 billion and according to the Times, Justice Dept. approval lifts "the biggest regulatory hurdle to the creation of the world's top airline."
The DOJ posted a statement regarding the merger on its website, explaining:
The proposed merger would combine the airlines' largely complementary networks, which would result in overlap on a limited number of routes where United and Continental offer competing nonstop service. The largest such routes are between United's hub airports and Continental's hub at Newark airport, where Continental has a high share of service and where there is limited availability of slots, making entry by other airlines particularly difficult. The transfer of slots and other assets at Newark to Southwest, a low cost carrier that currently has only limited service in the New York metropolitan area and no Newark service, resolves the department's principal competition concerns and will likely significantly benefit consumers on overlap routes as well as on many other routes. The slot transfer is through a lease that permanently conveys to Southwest all of Continental's rights in the assets, in compliance with FAA rules.
The airlines announced plans to merge last spring and will likely close the deal in the next two weeks, with shareholder votes scheduled for September 17. Hopefully everyone with frequently flyer miles won't rush to cash them in now. Not that we're suggesting that or anything.
[NYT]