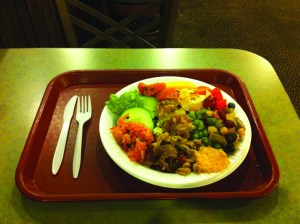 Moulard duck and pommes sarladaise have their place in the city's system of persuasion, but for those looking to bend the ear of Patterson and Cuomo appointees at the secret Financial District power-lunch spot deep in the basement of the Equitable Building, humble vegan fare like bean strogonoff and boiled cauliflower has taken on a new prestige. The privilege of the restaurant's all-you-can-eat buffet (soup included), as well as access to sundry New York City muckety-mucks, costs a whopping $4.98, no reservations necessary.
For five years, Little Lad's, marked only by a handwritten sign, has occupied a windowless, underground corner of the Equitable Building on Broadway. Despite low ceilings, a sub-street-level location and taxing weather outside (90 degrees, humidity index 75 percent), Little Lad's was humming on a recent Wednesday afternoon, with suits descending into the gloom to fortify themselves on Integrated Bean Soup and Nice Cream. "It's a very positive place," a senior staff member from the Office of the Attorney General, who asked to remain anonymous, told the Transom, "in everything from the quality of the natural foods to the quality of the people and the environment." A city commissioner, who also requested anonymity, said that the "warm, spiritual element" of the restaurant made him sense that "the food was prepared and served with a lot of love."
The décor strikes a note somewhere between Dutch colonial and Midwestern pizza parlor. After loading up at the buffet, customers sit at leatherette booths and cafeteria-style tables, absorbing their meals beneath stained-glass windows and wallpaper depicting photorealistic tulips. "Little Lad's is like that kid in high school who should be a loser but is actually admired by everyone because he does what he wants and has no clue about what's trendy," Jonathan, a researcher for the NYC Criminal Justice Agency, told the Transom after a lunch of rib-sticking fare.
The agitprop is unconcealed at Little Lad's, which welcomes customers with a foyer brimming with books like Don't Drink the MILK! Frightening Medical Facts About the World's Most Overrated Nutrient and The Great Controversy between Christ and Satan. Rhubarb tarts lie alongside DVDs filed into categories like Foods That Kill and Aspartame: Sweet Poison, and a television in the corner screens Vaccine Nation, a documentary that posits a link between government vaccines and autism. "If you ever think about having children," Larry Fleming, the owner of Little Lad's, advised the Transom, "you might want to watch this."
Mr. Fleming, 63, is a Seventh Day Adventist who lives on a farm in Maine and commutes 500 miles to Manhattan twice a week in a truck packed with fresh produce to work at his restaurant. When pressed to reveal where he sleeps on his city visits, Mr. Fleming admitted that he often doesn't sleep at all: "After I drop the truck off in Brooklyn, I go straight to the Hunt's Point market to load up on fresh food," he told the Transom. "Then I'm back at the restaurant at 6 a.m. the next day." An employee confirmed his schedule.
Mr. Fleming cuts a stoic and symmetrical figure, calling to mind the sort of actor cast in TV shows to play a fictional U.S. president. "I grew up on a cattle farm in Washington," he explained. "Yippee-ki-yay." Mr. Fleming's dietary philosophy–he emphasizes a "hearty breakfast, light supper and vigorous mastication"–originates in his faith, to which he converted in the early 1970s after witnessing the transformative effects of a good diet at a Chicago school for emotionally disturbed children, where he was a teacher.
Like Alice Waters, the Little Lad's owner has taken a seasonal approach to cooking for decades, preparing food based on what shows up at the market or on his farm. Unlike Ms. Waters, he does not wear elfin hats or serve eight-dollar grapes on a plinth. (Mr. Fleming wears a suit and charges one dollar for grapes.)
Customers pay according to an honor system ("I had waffles and guacamole"), and those who don't have cash on hand are told to settle up the next time they come in. The restaurant takes its name from a passage in John 6:8-9, in which an unnamed boy–a "little lad"–offers Jesus a modest basket of bread and fish, which the Lord in turn dispatches to feed the multitudes.