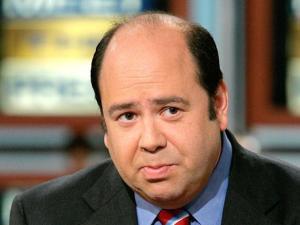 The National Journal has added another ace to its increasingly stacked deck of Washington talent. Veteran Matt Cooper has joined the aggressively relaunching Atlantic Media-owned National Journal Group as managing editor. He will also lead a major beat team that has yet to be determined, according to a release this morning.
"Matt Cooper joins NJG. Happy not to be competing against him any more," wrote the National Journal's new editor in chief Ron Fournier on Twitter this morning.
Mr. Cooper echoed these sentiments in the release. "[Editorial director] Ron Brownstein and Ron Fournier aren't just old friends," he said. "They're the best of the best journalists. I'm so happy to be working with them rather than competing against them.
Until two weeks ago, Mr. Cooper was working for the Financial Crisis Inquiry Commission on a book about the group's findings from the economic collapse. Mike Allen wrote this morning that Mr. Cooper is a "veteran of every magazine you ever wanted to write for," inlcuding Time, Portfolio, Washington Monthly, Newsweek, The New Republic and Talking Points Memo. He has worked for a David Bradley property before as a correspondent for The Atlantic online.
Mr. Cooper does impersonations. He was called to the stand during the Scooter Libby trial in 2007 to discuss an interview with Karl Rove. He's used to this: