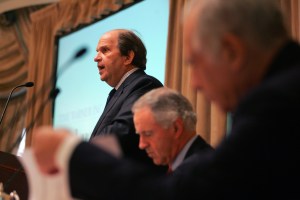 Ten months after Bruce Wasserstein's sudden death, New York Magazine remains firmly in the hands of the Wasserstein family, and it doesn't appear to be going anywhere.
David Carr reports today that Mr. Waserstein's children are dedicated to the magazine. "The family members meet with the management team monthly and weigh in on broader budgetary and strategic priorities," writes Mr. Carr.
Pam Wasserstein, who works for the Tribeca Film Institute and spent time with New York staffers in the past, said that the family sees New York as an investment:
"We reviewed our family's investments after Dad passed away. We concluded, as our father had, that New York Media was an attractive long-term investment. The strength of the company we're building, both in business terms and in the quality of the editorial products, is the result of years of long-term planning by our father and the New York team."
Last October, it wasn't clearly what would happen to the magazine. Editor Adam Moss told Mr. Carr that he received a few phone calls from some rich folks who wanted to see if it was available, but, he said, "the family did not miss a beat. They told us that the magazine was always meant to be owned by the family, and that it was not bought as a quick turnaround project or to flip."
The only thing that isn't clear at this hour — or maybe in the years to come — is when the Wasserstein family will actually assume full power over the magazine (that is, when they participate in something more than a monthly meeting), and what will happen when that process begins. At this point, it appears that Anup Bagaria is keeping his steady hand at the wheel, and none of the Wasserstein children have asserted themselves as the active owners of the magazine. When that happens, we'll once again review whether or not New York remains, as Mr. Carr argues, one of the shining beacons of great media property ownership.