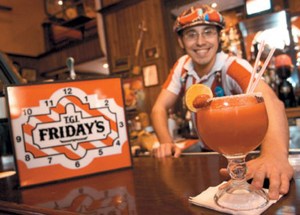 On Thursday, Aug. 5, between 9 p.m. and midnight, a half-dozen Observer interns flocked to 20 New York bars, armed with sterile swabs, to find out just how much grime lurked underneath their glasses.
A licensed New York City microbiology laboratory tested the samples, which were interpreted by Dr. Philip Tierno, director of clinical microbiology and immunology at New York University Langone Medical Center.
According to Dr. Tierno, August is a busy month for bacteria, which multiply more quickly at warm temperatures. Most of it can be traced back to three sources: "Organisms that are shed from the skin, the oral cavity, and from feces," he said. Though much of it is harmless, high counts of certain strains act as a "canary in the coal mine"-an indication that a pathogen may be present.
Remember, the dirtiness of the bar is not necessarily an indictment of the establishment. "If you do have fecal organisms, maybe you don't blame the bar," said Dr. Tierno, "you blame the people who go to the bar."
With reporting by Rachel Morgan, Esther Zuckerman, Michael Gonda, Sam Levin and Amanda Cormier
SEE A SLIDESHOW OF THE BARS HERE.