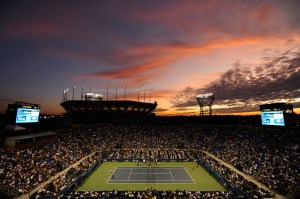 For the fourth straight year, I'm back at the Open. A little change this year! I'm no longer seated with the French press in the Arthur Ashe press room. Now I'm alongside the British and Russian press. Dobraye utro! This must be a step in the right direction.
At last year's absolutely wacky Open, the women ran the show behind Melanie Oudin (where did she come from?), Kim Clijsters (she did what?) and Serena Williams (she said whaaat?!). But this year, with Serena out with an injury and no other WTA star taking charge, it looks like our attention will be focused on the men. Will we see our first Roger v. Rafa final since Australia in 2009? Can Rafa win over New York? Will Andy Murray finally do something?
I'll be here every morning watching the first match get underway, and I won't leave until the last night match is over. I'll be stalking the outercourts, roaming the player's lounge and sitting courtside at Ashe, Armstrong and the outercourts. Watch out, Wintour! I've got my eyes on you again this year, too.
Sadly, the great Zack Woolfe will not be joining us this year, which means I'm riding solo, which also means: I need your help.
Send me tips/observations/encouragements/complaints at jkoblin [at] observer.com and follow me at twitter.com/koblin. I'll be lonely without you!
But for now, one last reminder of last year's absurd Serena meltdown during the Women's semifinals.