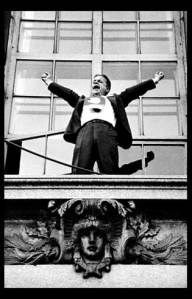 Ads are up. Sniping has started. Voters go to the polls in 24 days.
Richard Brodsky: On Saturday, local community events in Brooklyn and the Irish festival in Manhattan. On Sunday, churches in the Bronx, and local community events in Manhattan.
Sean Coffey: On Saturday, attending community Family Days in Queens and Brooklyn, including one with Councilwoman Diana Reyna. On Sunday, he will attend two church services in Brooklyn, including one with Congressman Ed Towns.
Eric Dinallo: Walking in the Hon. Percy Sutton Harlem 5k Run and NYC Family Health Walk-a-Thon and celebrating Harlem Week afterwards in St. Nicholas Park.
Kathleen Rice: Saturday – two community events in Nassau County, a polish street fair in Suffolk County and Greek event in Suffolk County. Sunday – Brooklyn churches.
Eric Schneiderman: On Saturday, making campaign stops in Western New York, including visits with community leaders and voters in Niagara County. On Sunday, he will be attending multiple churches in Staten Island and the Bronx, and meeting with Jewish leaders in Rockland County.