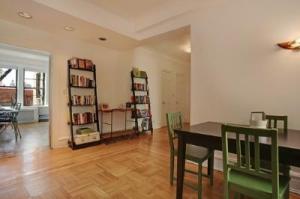 A Central Park West address conjures images of glamorous apartments that seem as if they were made solely for the purpose of watching the Macy's Thanksgiving Day Parade. This weekend The Observer decided to check out what Central Park West had to offer, but we forwent the parade route and looked upward of 96th Street.
Although it was a slow day—only three of the eight apartments we dropped by had prospective buyers—we learned that, while a park view is nice, it's not necessarily a dealbreaker. One broker, Sujin Park, who was showing an $828,000 apartment at 392 Central Park West, quipped in an otherwise empty apartment that popularity of open houses might have something to do with the "moon cycle."
We started at 418 Central Park West. The tiny two-bedroom apartment offered at $750,000 was one of the few apartments that we saw that actually had a park view. Its rounded, white-walled living room had two small windows that looked out onto the vast expanse of green. Despite the view, Igor, 50, and Rita, 45, a couple with thick Russian accents who declined to give their last names, were not fans of the small apartment. Inside, Rita worried that the apartment was not "squeezable." At one point she stood in a bedroom and opened her arms: Her wingspan nearly filled the room.
"I think it needs repair," Rita said when asked about her opinion.
"Dirty wall, smelly," Igor said before Rita cut him off.
We also saw condos in 400, 392 and 372 Central Park West, all part of Park West Village, a collection of post-war buildings originally part of "government-subsidized urban redevelopment plan," according to the Park West Village Tenants' Association Web site. Even though its hallways were dark and somewhat horror movie-esque the $975,000 apartment in 400 had been renovated and featured sleek marble and leather furniture. It was the only other apartment we saw that afternoon with a view of the park.
"I always say to people, 'I have to apologize the view is so bad,'" broker Michael Tobia joked while standing on the apartment's small terrace looking out at a park fountain in the distance.
As our second-to-last-stop, we visited a small $435,000 one-bedroom at 485 Central Park West and realized we had pretty much reached the end of the the park.
It was about an hour into the open house and The Observer was the first to see the apartment. Broker Tristam Anthony had a specific idea of who the buyer should be. He said the apartment was good for a single professional guy, with a dog, who likes pre-war buildings and possibly biking or rollerblading and therefore wants to be near the park. "It's a terrific starter apartment," he said.
"You don't have great views," Mr. Anthony said in the dark one-bedroom. All one could see out of the small windows were sides of buildings and fire escapes. It felt as if it were nighttime even though the shine was shining. But Mr. Anthony kept a positive outlook. Proximity to the park, and not views, were what he was trying to sell. "You walk outside and have Central Park."
Our last stop turned out to be the most popular. When we entered the $825,000 two-bedroom condo at 467 Central Park West, families and couples roamed. The pre-war building, called the Warner House, has a lobby that looks part deco, part European and part hunting lodge. Carved decorations adorn the walls. Scott Larson, 37, who was looking at the building with his wife Claire, 27, called it "medieval."
The apartment was bright with wood floors and a fairly large kitchen. But, alas, no trees, only brick buildings. "It's not nice looking out to the bricks," said Margie, a "less than 50" (her phrase) nurse practitioner who declined to give her last name.
Mr. and Ms. Larson didn't really care about the park views. "More access to the park is what's nice about this," Mr. Larson said.
Access to the park also means access to park food vendors. The Observer stopped for a famous Good Humor Toasted Almond bar.
The dark wood of the lobby made a cameo in one of the apartment's closets. "The cedar closet is kind of unique," Ms. Larson said.
"Good storage for that wedding dress," Mr. Larson responded.
The Larsons currently rent on the East Side, a little farther downtown. They are looking for a place that reflects the neighborhood in which they currently live, Ms. Larson said, and this neighborhood does so. The couple wants to own their place, though, and wants two bedrooms "for the expansion factor," she said.
PREVIOUSLY > Greenpoint, When You Want to Try Brooklyn