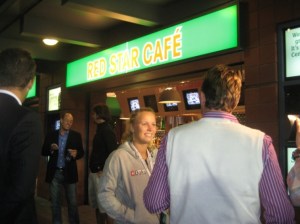 Later tonight, Caroline Wozniacki will play her first Open match and can officially assume the Dinara Safina role as The-Player-Who's-Ranked-No.1-But-Hasn't-Earned-It. Since the women's game has been blown to pieces over the last few years, we've heard (repeatedly) about this sort of player. Ana Ivanovic once had the label. Jelena Jankovic too. Safina took it last year (and did not handle it well). Now, it's time for Wozniacki, last year's Open finalist who lost to Kim Clijsters.
But there's a reason I have a really soft spot in my heart for Wozniacki and why I'm rooting for her.
Last year, after she broke the heart of every New Yorker when she beat Melanie Oudin in the quarterfinals, she took to the outdoor Heineken bar — yes, that one! — at 11 p.m. and chatted and posed for pictures with revelers. One asked her to put on a Morten Anderson Saints jersey (this was four months before they won a Super Bowl), and she did.
As we documented last year:
A few people with beers in hand asked her to pose for pictures. She graciously obliged, and never dropped her radiant smile, even when one brand-new fan, an American man in a backwards Timberland cap, oversize jacket and cargo shorts, joked, "If you don't beat Serena, I'll kill you!" Then he asked for a photo. Wozniacki smiled brightly for the digital camera as he told her he was in awe that she was able to defeat Melanie Oudin with the crowd completely against her.

One slightly saner fan asked her to put on—we kid you not—a Morten Andersen New Orleans Saints jersey (Andersen was a legendary NFL kicker, and a native of, yes, Denmark). She put it right on and took more pictures. Then she sat down on a stool borrowed temporarily from the bar and did an interview for a Danish television station.
Now that Wozniacki has a no. 1 ranking, maybe she's upgraded to the more mature wine bar, but we hope she'll take another trip to the Red Star Cafe.
FOR COMPLETE OBSERVER U.S. OPEN COVERAGE: http://observer.com/usopen and http://twitter.com/koblin