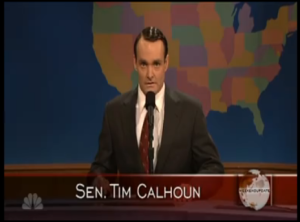 After a decent run of eccentric, often helium-voiced characters, Will Forte is leaving Saturday Night Live.
Dave Itzkoff, reporting in the Times' "Arts Beat":
Will Forte, the longtime "Saturday Night Live" cast member who portrayed that incompetent adventurer, among a wealth of other eccentric characters, will not be returning to "S.N.L." when the NBC late-night sketch series begins its 36th season in the fall.
Itzkoff writes that Forte's departure was leaked by sources with knowledge of the show's inner workings who couldn't speak on the record because the show hasn't finalized details for the new season.
The break was friendly; Forte wants to "pursue other projects."
There is no word as to whether this means a blockbuster Tim Calhoun action flick is in the works.