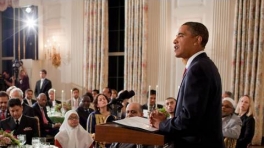 That's what The Swamp is reporting:
The White House has worked deliberately to stay out of the controversy in New York over a proposed mosque to be built near Ground Zero, the site of the Sept. 11 terrorist attacks. But press secretary Robert Gibbs signaled today that President Obama may address the topic, though perhaps only tangentially, at the White House tonight when he participates in an Iftar dinner marking the end of Ramadan.

"Religious freedom is something that the president believes in, and I think you'll hear him talk about it tonight," Gibbs said.
h/t Maggie