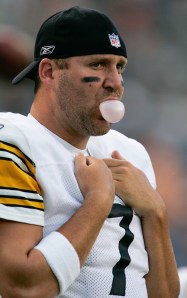 Washington Post sports columnist Mike Wise has been suspsended from the paper for a month after using Twitter for a practical joke and, more to the point, abusing his privilege as beat reporter.
Mr. Wise tweeted a fabricated news item about Ben Roethlisberger's supsension yesterday — "Roethlisberger will get five games, I'm told" — to see how many sports blogs would pick up the news without fact-checking. A few outlets, including the Miami Herald, took the bait.

Dan Steinberg, a fellow sports reporter at the Post who mostly blogs, stood up for Mr. Wise. "A big part of SBNation's mission is to steal our shit and repackage it — they take other people's stuff too," he told Erik Wemple.
Mr. Steinberg added on a post to his blog that one misstep shouldn't overshadow Mr. Wise's body of work. "Getting athletes to open up like that while also having the writing skills to do these stories justice is a pretty unique combination," he wrote. Indeed!
Mr. Steinberg also apologized for his dig at the site SBNation (which is a start-up by the way).
Mr. Wise has apologized himself at length saying that the tweet was a "horrendous mistake." His statement continued, "I always say our worst moments should not define us — I just didn't think I'd be talking about myself." (Post media columnist Howard Kurtz also wrote about the tweet and the suspension).
It was all a joke and the punishment doesn't seem too severe. But Mr. Wise and Mr. Steinberg do seem to harbor real resentment about how sports bloggers use their material (their "mission is to steal our shit and repackage it."). That attitude feels very 2009. Beat reporters are the lucky few who get paid to report, and, at the end of the day, do they care much if bloggers are taking their work, so long as there's credit and a link? Everybody knows bloggers have limited time and resources to fact check. The only that fact Mr. Wise could have reasonably expected to demonstrate with his practical joke/experiment is: bloggers put a lot of stock in everything he writes.
There's also this, from Tom Scocca: "If the premise of your hoax is completely unfunny, a lot of people will believe you."