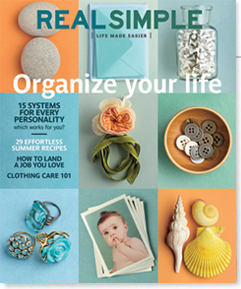 Print advertising budgets are making a comeback at fashion companies (anybody seen the first 160 pages of September W?). Now Real Simple, the magazine for ladies who like to keep their homes organized and cook pleasant meals, has been paying more attention to fashion to take some of those ad dollars off the table. Anyone can do it!
Real Simple featured three new fashion franchises in its September and October issues for the business side to sell against, according to Memo Pad. Ad pages for the September issue were up 6 percent from last year.
Glamour is also trying to gently reposition itself as more of a fashion book, too, following the hiring of Anne Christensen and Melissa Ventosa Martin.