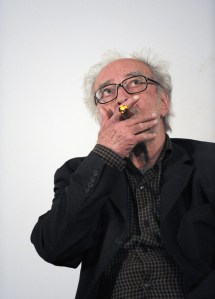 Jean-Luc Godard—French New Wave pioneer and filmmaker nonpareil—is set to be among those receiving an honorary Oscar this year, but chances are he would not like to thank the Academy. This can't be much of a shock: the man whose unstoppable brand of cinema was fêted at Film Forum earlier this summer is known to be a bit of a recluse.
For example, when Richard Brody finagled a sit-down with him for a 2000 New Yorker profile, the auteur shared one of his favorite cartoons from that magazine. It was a drawing of a unicorn at a desk with the caption "These rumors of my nonexistence are making it very difficult for me to obtain financing."
So, naturally, a Hollywood Reporter story indicates that those in charge of handing these things out are having a difficult time tracking him down.
"We've been attempting to reach him since 7 o'clock Tuesday evening and we have as yet had no confirmation," Bruce Davis, the Academy's executive director, said late Wednesday afternoon. "We have tried by telephone, by fax, by emails to various friends and associates. We have sent a formal letter by FedEx. But we have certainly not been told he will show up at this point."
And even if they do get in touch with him, the Oscar committee may have trouble convincing him to make the trek to L.A. Godard doesn't fly, the story reports, because he can't smoke on airplanes.