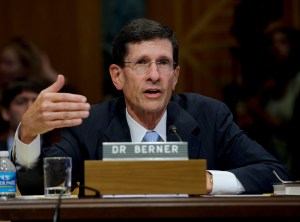 When July's unemployment rate is announced tomorrow morning at 1:45 a.m., one economist will win, and one economist will lose.
Goldman Sachs' Jan Hatzius is pessimistically betting unemployment has gone up, and Morgan Stanley's Richard Berner thinks it's gone down. The Times has a breakdown of the two economists' contradictory positions, and they're both firm. Mr. Hatzius has even darkened his "already anemic" forecast. If he wins, that would vindicate the deflationists, whose ranks recently have been growing.
The Times points out that Mr. Hatzius, 41, was three years old when Mr. Berner, 64, started as an economist. But the youngster is making Mr. Berner a little nervous.
"I'd say at this point the data and the sentiment in the marketplace have certainly gone more Jan's way than mine," Mr. Berner said, adding that some people think "I'm out of my mind."
He backpedaled: "Friday's number is just one tile in a mosaic. From time to time, it'll be like I'm winning, from time to time Jan will be winning."
But he's not changing his prediction. He thinks there have been 145,000 private sector jobs added this month, while Mr. Hatzius thinks only 75,000 jobs have been added. Start placing bets!