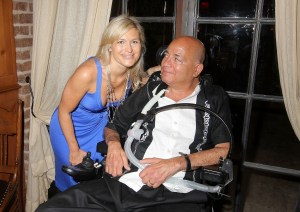 Philip Carlo is pretty much the Chuck Norris of the best-selling author world. He is a crime writer, sort of like Sue "A-B-C-D-E-F-G-H Is For Axe Burglar Crime Disaster Elusive Felon Grisly Homicide" Grafton, but tougher. After all, did Grafton ever hang out in prison and nearly get her leg broken by a hardened criminal, like Carlo did in the lede of this New York Times profile of him?
"I could kill you," the subject reminded the author at one of the jailhouse sit-downs.

"I'm not that easy to kill," Mr. Carlo ventured. "I'm fast."

Mr. Kuklinski brought down a huge fist, stopping just short of the writer's knee. "I just broke your leg," he said. "You're not that fast."
Intense. Read the profile. Anyway, Mr. Carlo has recently been spotted seeking an assistant on Craigslist, and, like any true bad-ass, he has exacting demands:
you must be able to do extensive, very thorough research, answer phones, make appointments, help me interview both people in law enforcement and people on the other side of the law– never take no for an answer. you must be upbeat and optimistic. you must be able to think on your feet and effortlessly multi task . you also, absolutely, must be able to take perfect rapid dictation.
And he has every right expect such assistance. As the Times profile explains, he is wheelchair-bound and battling Lou Gehrig's Disease, but continues to live, function, and write. Here are some things that make him the baddest bastard this side of Jack Bauer:
He's 60 but has a beautiful 35-year-old wife.
He is "a bullet-domed Brooklynite who grew up surrounded by criminal intrigue" (per the Times).
To sleep, he has to wear a mask. His take on it: "I look like an octopus."
He made the Times issue one of the best corrections ever:


An article last Sunday about Philip Carlo, a true-crime horror writer who is fighting Lou Gehrig's disease, misidentified, in some editions, the Mafia family that included Salvatore Gravano, who Mr. Carlo said had ordered the brother of a childhood friend of his killed. Mr. Gravano was an underboss in the Gambino — not Bonanno — family.
Class dismissed.