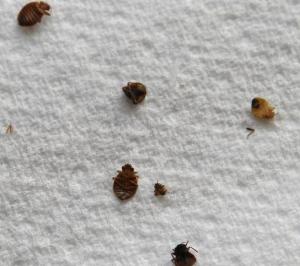 After New York's string of clothing-store bed bug outbreaks, the Council of Fashion Designers of America has weighed in with expert guidelines for bed bug management. Bed bugs do not just happen to dirty people, after all; they also happen to the stylish. Here is some handy information:
What are some of the signs that a store might have bed bugs?

The first clear sign of bed bugs would be identifying bites on employees' bodies. The appearance of bed bug bites can vary drastically from one person to another, but typically speaking, they tend to surface in clusters of red, itchy welts on the appendages. If this becomes a noticeable trend amongst employees, it could be from bed bugs. Also, if you begin to see slight imperfections on clothing, like tiny red or rust colored dots, this could be because of bed bugs.
Clearly the people at the Time Warner center were not paying enough attention to their employees' bodies.
(via The Cut)