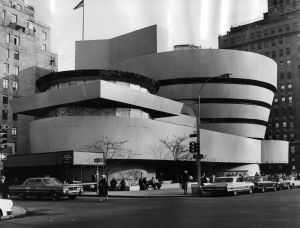 It's official: YouTube videos are now in the same realm as Matisse, Kandinsky and Picasso (also, sigh, Harleys and Armani). Yep, YouTube is hitting the Guggenheim.
In honor of its "abiding focus on new media" (wink, wink) the Guggenheim will put up an installation from October 22-24 in its light-infused spiral atrium entitled "YouTube Play. A Biennial of Creative Video". The exhibition will feature the top 20 cat videos (actually, yes, other videos will be considered) — as selected by an eclectic panel of jurists — from over 6,600 submissions to a YouTube competition that was held in June and July. Another 200 finalists will be streamed online on a YouTube Play channel. Watch some of the submissions. They're…creepy:
And long:
Lest anyone think the Gugg's motivation in showcasing user-generated content is purely artistic, fear not! Instead, the installation is part of an effort by Google, which owns YouTube, to attract advertisers by associating itself with high-class stuff luxury brands love. YouTube isn't just a platform for hamsters on pianos or biting Charlies, dammit! HP and Intel are also sponsors.
We can't help thinking, over in the Thannhauser Collection, a Picasso is frowning.