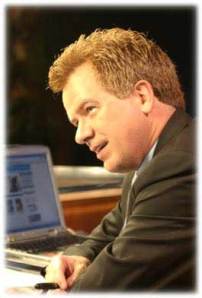 According to Newsweek, one constituency accounted for a surprisingly large portion of the crowd that gathered to hear Bill Keller's inaugural speech as the head of his fledgling 9/11 Christian Center: a third of the 70 people attending were reporters.
Keller announced that he would host a weekly sermon to "preach against Islam and Mormonism and any other false religion," he told the Daily News last week — or, more specifically, preach against the nearby Islamic center known as the Ground Zero Mosque. And, in accord with the journalist-to-civilian ratio reported by Newsweek, Sunday's talk made quite the splash as well. It was covered in, among other places, The New York Times, which has an executive editor who shares a name with the right-wing televangelist. The Times says that 2.5 million people subscribe to Keller's daily sermons via email.
Though the speech only lasted 20 minutes, Keller squeezed in as many bursts of his rhetoric as he could. He compared himself to Elijah confronting the false prophets of Baal, who in this case were Glenn Beck and Imam Feisel Rauf. According to Keller, Beck "doesn't believe in the Jesus of the Bible" because of his Mormon faith and the Imam of the Park51 Islamic center was celebrating a "great Muslim military accomplishment."
Newsweek wonders if the entire spectacle is a press-baiting act, anchored by Keller's love for all publicity and his almost self-aware sense of his extreme statements. One blogger present at the event said a day after he tore the pastor apart on television, Keller wrote him a thank-you note.
The press presence was visible enough to merit a shout out in the speech. "Lord," Keller said. "We have a lot of press here this opening day, and that's OK. We pray that they will ask themselves, 'Are you ready, if your heart stops beating in the next minute, to meet Jesus?'"
It was backhanded gesture, and one that many of its subjects may not have especially wanted. Members of the press were already well represented at the Marriott, but once they became one of the rare people on whom Bill Keller bestows his blessing, they were placed in an even more exclusive club.