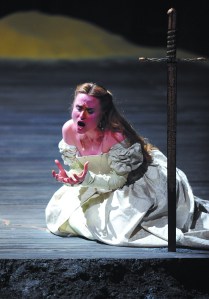 "You see, I don't play roles. I find color for every role inside of me." The soprano Marina Poplavskaya likes to talk about how she sees music as colors. She is also given to morbidly poetic formulations like "Let the harmony penetrate you like a silent knife through your heart." She quotes freely from Peter Brook, Madame de Pompadour and Pushkin; she has no Web site, Facebook, or Twitter; her favorite singer, Amelita Galli-Curci, retired from opera in 1930. Moody and introspective, a serious student of history, literature and stagecraft, she is eccentric but somehow refreshing, an antidote to the blandly professional, smaller-than-life contemporary opera singer.
Only a few years into her career, she's already attracted major attention, appearing in leading roles around the world. Gay Talese has traveled with her for an upcoming profile in The New Yorker. ("Marina Poplavskaya Has a Cold"?) And this fall, at just 33, she will attempt the rare feat of starring in two new, back-to-back productions at the Metropolitan Opera: Don Carlo, in November, and La Traviata, which opens on New Year's Eve. She is, in other words, on the verge of becoming a star.
"You can't call it ordinary," Ms. Poplavskaya told The Observer in a phone interview from Barcelona, where she is singing Micaela in avant-garde director Calixto Bieto's production of Carmen. "It's going to be huge work ahead for me, not only physically, because it's a long sing for the voice, but also on my mind and heart and on my situation as an actress. It's a huge, huge challenge for me, but I'm anticipating it," she said, laughing, "because I'm kind of weird."
Good singers are always in demand, and Ms. Poplavskaya is very good: In a 2008 video recording of Verdi's Otello, her voice is steely but seductive, with a smoldering darkness to the tone, and she has a magnetic stage presence that's physically fearless and yet carefully restrained. But her doubleheader this fall is nevertheless highly unusual. Another Russian soprano, Marina Mescheriakova, got three new Verdi productions at the Met a decade ago, but they were spaced over 15 months. In 2007-2008, Natalie Dessay starred in two new productions in a single season, but Lucia was in September and La Fille du Regiment not until April. By contrast, the new Traviata opens 13 days after the final Don Carlo.
It wasn't planned this way. Angela Gheorghiu was originally slated for the Don Carlo, directed by Nicholas Hytner, when it originally premiered in London in 2008, but she dropped out and Ms. Poplavskaya jumped in. Anna Netrebko, who starred in La Traviata when Willy Decker's production premiered at Salzburg in 2005, was supposed to bring it to the Met, but didn't want to compete with her DVD recording. Ms. Poplavskaya, who starred in the production's run in Amsterdam last year, made perfect sense–she was, after all, already going to be in town.
"It's a great opportunity for her and the Met," said general manager Peter Gelb in a phone interview. "If she has a great success, it will be a way for her to establish herself very quickly with the Met audience. … She's very gifted, she has a very strong theatrical presence, and I hope she has a stunning success."
Ms. Poplavskaya's series of lucky breaks caps a whirlwind ascendancy that she says she never predicted.
"Before I was 18 years old," she said, "I thought that the best thing for me would be as an artist in a big chorus. I never thought of myself as a soloist. … I never thought of myself performing these roles. Of course I dreamt, listened to great singers, and I loved to act, but it was never reality."
Ms. Poplavskaya was born in Moscow to scientist parents in 1977. She began studying voice when she was 14, but she was also a swimmer, played harp and violin and danced ballet. She dislikes competitions, but she won several, and joined the young artists program at London's Royal Opera in 2005. Her breakthrough came in a concert performance of Halevy's La Juive the next year; The Times of London said she was "already displaying the voice, musicianship, and temperament of a great diva." (The temperament of a great diva, indeed: She's already been married and divorced twice. About troubled relationships, she said, "I'm not going to 'work things out.' It's not a working-out room, it's not the gym. You can't train your soul at a gym to love someone who does not understand you.")
She debuted at the Met in 2007, as Natasha in Prokofiev's epic War and Peace, but has since appeared with the company only in the supporting role of Liu in Puccini's Turandot last fall. These two high-profile new productions, then, are a coming-out the likes of which you'll rarely see.
"The stage is built so it involves you in the production, especially the Traviata," she said. "The way they built the set is very, very simple and into the auditorium, so the auditorium is the main participant in this production. That is also one of the goals of Nicholas Hytner with Don Carlo. It's nothing unnatural, and when the stage stays clean, it asks more from the singing actors, because that's what we are in these two productions. If you're just a singer, you'll be lost immediately. … You can't hide behind the beautiful dress or behind the beautiful table and just think about the vocal line."
The Don Carlo may be spare, but the Traviata is abstract and surreal, as radical as a repertory standard has ever been at the Met. Its success will largely depend on whether Ms. Poplavskaya can convince an audience that booed Luc Bondy's Tosca that giant clocks, contemporary furniture and lots of open space can yield an emotional experience rawer and more vivid than overstuffed opulence. It's her moment.
"It's coincidence that has her doing these two new productions in the same season," said Peter Gelb. "But, on the other hand, out of coincidences sometimes great things occur."
zwoolfe@observer.com