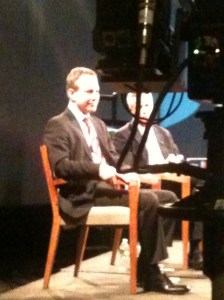 The attorney general candidates (minus Kathleen Rice) gathered for (what seems like) the 87,242nd debate this primary season at the cramped studios of the public access station Manhattan News Network.
The event was sponsored by the city's ethnic and foreign language press, and there were few surprises, except when a reporter from the Chinese language daily World Journal stood up and asked, "Senator Schneiderman has run an impressive campaign so far. He has received more than 100 endorsements. I'm just wondering how the other three candidates think about Senator Schneiderman campaign. Do they feel threatened?"
After a brief chuckle, and a response from Schneiderman in Chinese that I didn't quite catch the other candidates piped up.
"Uh, no," said Richard Brodsky. "It's an interesting way to phrase the problem I think this campaign is only beginning in the last ten days. There has been a dramatic lack of attention…I think you are going to see a lot of attention paid to things like civil commitments of sexual predators. I think you are going to see a lot of attention paid to environmental matters…So as impressed as obviously you are with Senator Schneiderman's campaign, afterwards, we'll talk and maybe I can impress you one third as much."
Next came Sean Coffey, who said, "Senator Schneiderman often says he has the broadest coalition. I don't think you can say that anymore Senator. Someone pointed out to me this morning that I have endorsements that range from Senator Al Franken to the New York Post. I think that is pretty broad. By the way, who here knew my name three months ago? Nobody. So everybody who endorses me is taking a political risk…because we have folks who have been around a long time, a real long time."
At which point Brodsky, who seemed to think this was a slight to him, interjected, "Well, I don't look it."
"You look great," Coffey said. "And everybody I got has said, you know what, it's time for something different."
Eric Dinallo pointed out that he has been endorsed by the Daily News and Crain's in recent days, and said, "I think this is truly a wide open campaign. Some of my opponents have spent now collectively several hundred million dollars in advertisements, and the latest polls show really no one knows anyone, and I include myself in that since I've been at this since August."