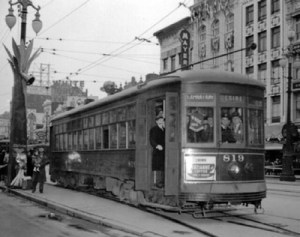 Finally Red Hook may get the public transportation solution Brooklynites have been auditioning for all these years.
"City eyes putting transit dinosaurs back on track in Red Hook, Brooklyn," reads this morning's New York Daily News headline. Streetcars, which seemingly went the way of bowler hats and impromptu musical numbers, could be the latest (if not the most cutting-edge) solution proposed for Brooklyn's public transportation strain.
"We're looking back to the future with our transportation network," Department of Transportation Commissioner Janette Sadik-Khan said yesterday.
Residents quoted by the Daily News don't seem to mind that most of the vehicles move at a leisurely pace. "It's an absolutely positive idea," said Shayla Sweatt. "It's up-and-coming, and this could really open it up."
Brooklynites may perhaps do well to speak with residents of Toronto, which has the largest street car system in North America. Asked a recent headline, "When does a 5-kilometre trek take 40 minutes?"
The Obama administration may, however, have made it easier for Red Hook to build a better system, now that funding for cities to build up their transportation systems isn't solely based on cost-effectiveness. Apparently street cars fare better on factors such as liveability and economic development.
Ask that other hipster center, Portland, which debuted a state-of-the art system in 2001, where cars roll along at a more respectable 30 miles per hour.