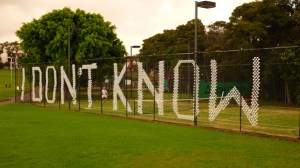 There was a lot of head-scratching in political circles this morning after a Q-Poll came out that showed that a whopping 85 percent of New Yorkers did not know who they were going to vote for in the attorney general's race.
Nassau district attorney Kathleen Rice led all comers in the poll with 4 percent. Her nearest rival, state Senator Eric Schneiderman, came in with 3, and Assembly member Richard Brodsky and private practice attorney Sean Coffey each got 1 percent. Former Insurance Superintendent Eric Dinallo didn't register at all.
Supporters and staffers of the campaigns all have their own spin. For Brodsky and Dinallo, the results show that the advertising push from the other three hasn't gotten them much traction. Rice's backers could take comfort that yet another poll showed her with the lead. Schneiderman fans say that the poll shows that no one is paying attention, and a low-turnout primary favors them, since they have the most labor and grassroots support.
But many say that the poll is fundamentally flawed.
The poll surveyed 866 registered Democrats, instead of polling prime voters or even those who identify themselves as certain to vote. Instead of giving respondants a list of names and asking them to pick one–which would have at the very least given a sense of who has the highest name i.d.–respondents were asked who they are voting for. Thus, 8 percent of respondent named somebody not running.
"It was the single most useless set of questions ever asked in the history of polling," said one Democratic operative. "We should take nothing from this and move on."
This operative even predicted that if the same poll was taken the day before the election it would yield similar results.
Maurice Carroll, the director of the Quinnipiac Polling Institute, seemed to agree, saying the poll was not meant to show who is in the lead in the election, but merely who is paying attention. And the answer, it seems, is nobody.
"There is no great interest in this race right now," he said from a pay phone in Grand Central, where he was waiting to take a train back to Quinnipiac headquarters in Connecticut. "So there is absolutely no way to predict who is going to win."
dfreedlander@observer.com