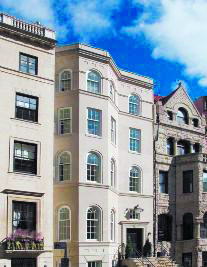 On Monday, the listing for Aby Rosen's 11,700-square-foot, single-family townhouse at 3 East 94th Street was removed from Corcoran's Web site, and labeled "No Longer Available" on Streeteasy. Much like Wendy's splashless walk off the plank in Disney's Peter Pan, brokers expressed shock that the much-covered property would have sold without a ripple. (Speaking of ripples, the home has a private lap pool and sauna.)
Calls to listing agent Carrie Chiang were greeted with abrupt hang-ups, though The Observer did glean from the tight-lipped superbroker that the townhouse "is off the market, it's not sold, it's been rented!" When we called again to ask for the rent, Ms. Chiang said, "I don't know, stop calling me." And while Ms. Chiang, despite stating the contrary, most definitely does know the rent, we were left with only estimates from seasoned brokers familiar with the listing.
Townhouse savant George van der Ploeg estimates the six-story home, with five wood-burning fireplaces and a 1,000-bottle, temperature-controlled wine cellar, would definitely rent for more than $50,000 per month and could easily go as high as $100,000. Sagacious luxury broker Kirk Henckels, who once listed the townhouse, estimates it could rent easily for $70,000.