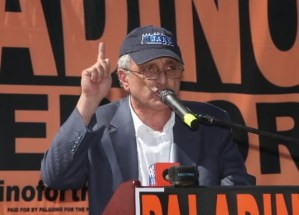 Carl Paladino clearly isn't the laying low type.
After doubling-down in his brawl with The Post earlier today, Carl Paladino is now out with a letter to his supporters in which he announces a "money-bomb" for Tuesday, October 5 at his website, "It's On Cuomo."
"It is time for Albany to hear the thunder of a revolution coming down the road. Make your voice heard this Tuesday October 5th by pledging to participate in our "It's On Money Bomb," the Paladino campaign says in an email to supporters.
"Moneybombs," which were made popular during the 2007 campaign, particulary around the candidacy of Ron Paul, are a short, often only one-day, intensive fundraising effort for a candidate or cause designed to show the intensity of support. In his email, Paladino says he wants to raise $105,000 by midnight on October 5.
Writes Paladino:
This November we have the opportunity to fight back against the status Cuomo in Albany. With his empty promises, Andrew Cuomo has shown time and time again that he will do nothing to challenge the business-as-usual attitude in the state capital. As you know, I am a Republican, a conservative, and a businessman. But most importantly, I am an outsider – not a politician.

Like you, I am mad as hell at a dysfunctional government and a ruling class of insiders in Albany who don't work in the interest of the people. Like other tea party-backed candidates, I am under attack. Don't let these liberal elites distract you from the real issues; if you want a governor who will really clean up Albany, look to someone who will cut taxes, slash spending and create jobs.