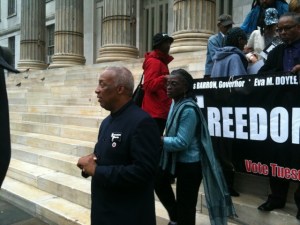 After spending the morning disrupting an Andrew Cuomo campaign event, members of The Freedom Party gathered behind gubernatorial candidate Charles Barron on the steps of Brooklyn's Borough Hall as Barron laid out a left-wing attack of Cuomo's economic policies.
Barron said that there was very little difference between the economic policies of Cuomo and G.O.P. candidate Carl Paladino, and said that his platform consisted of free public transportation, lowering the cost of college tuition, and paying for it all with an income tax on upper income earners.
"Cuomo and Paladino should not be options for our community," Barron said. "They were missing in action for us and now we should be missing in action for them on November 2."
Barron said that he was not behind the protest of Cuomo this morning, but said that he supported the action "one-thousand percent."
I wasn't there but I heard he tried to sneak into Harlem with some of his black supporters, but Harlem is a very sophisticated community, Harlem is a very alert community, a very progressive community, a thinking community and Harlem is not going to have the wool pulled over their eyes. So there was some members of the Harlem community along with the Freedom Party that confronted him. Don't come to our community 36 days before the election and say what? Thirty-six days to con us. We are not going to be bamboozled. We are not going to be conned. We are wise people and we are politically maturing so our representatives from Harlem said no. We want you to be serious about us all year long. You are the AG. How come we didn't see nothing to investigate about stop and frisk?
Barron was joined by his wife, Assemblywoman Inez Barron, and he said that once he was elected governor the two would move into the governor's mansion for one day before turning the house over to the homeless.
Barron formed the Freedom Party to protest the all-white slate of candidates that the Democratic Party is fielding this year. They gathered over 43,000 signatures, and Barron is now trying to get onto the debate stage with Cuomo and Paladino.
"There are more than two candidates in the race. The Freedom Party has a candidate. Cuomo wanted an all-white slate. He got that. Now he wants an all white debate. He's not getting that," Barron said.