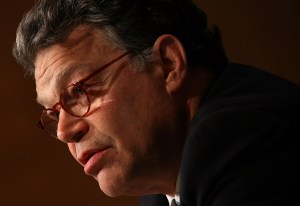 Senator Al Franken is asking the feds to launch investigations into potential criminal activity by Ally and its subsidiary GMAC Mortgage, which have come under scrutiny of late for allegedly using fraudulent foreclosure documents to boot people from their homes.
In a letter to a veritable who's who of financial regulators, Franken says he's "deeply concerned about recent reports of misconduct by Ally Financial and the company's policies and procedures that resulted in the routine filing of false affidavits in foreclosure proceedings." He goes on: "It is crucial that Ally and its employees are held fully accountable for any criminal misconduct."
Strong stuff! Franken sent the letter to Treasury Secretary Tim Geithner, Housing and Urban Development Secretary Shaun Donovan, Attorney General Eric Holder, Fed Chairman Ben Bernanke, acting Comptroller of the Currency John Walsh and FDIC chief Sheila Bair. Oh, and he also cc'ed Elizabeth Warren, to give the letter that added kick of little-guy advocacy.
Reports have lately emerged that Ally Financial and other mortgage lenders have been skirting legal convention in their rush to process an overwhelming load of foreclosure documents. The apparent consequence is that many recent evictions, repossessions and foreclosure sales may not have been legal.
mtaylor@observer.com
Twitter: @mbrookstaylor