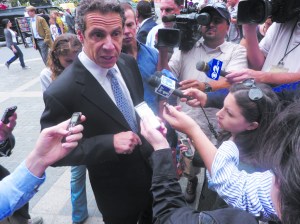 On Sunday afternoon, after months of quiet opposition, followed by 12 days of post-primary demurring, Andrew Cuomo stood at the Columbus Circle entrance to Central Park and endorsed State Senator Eric Schneiderman to succeed him as attorney general.
Throughout the summer, Mr. Schneiderman's status as a leader in Albany, along with his liberal voting record and his coalition of powerful labor unions, had been anathema to the attorney general's middle-of-the-road reform agenda. Now, apparently, it was something to be embraced.
Amid a backdrop of smiling supporters, Mr. Cuomo hugged Mr. Schneiderman and declared the two to be on "literally the same page" with regard to his fiscal reforms–and other things, too.
"We're also on the same page when it comes to progressive politics and making this state the champion of progressive politics for this nation once again–and standing up for a woman's right to choose, and standing up for marriage equality–and that's what Eric and I are going to do together," Mr. Cuomo said to considerable applause.
Since Buffalo developer Carl Paladino won a landslide primary over Rick Lazio and the Republican establishment on Sept. 14–or, more precisely, since Mr. Paladino's victory made it clear that the governor's race would be, at the least, energetically contested–Mr. Cuomo seems to have rediscovered his partisan roots.
And so, after spending most of the summer wooing Republican dissidents upstate, carefully positioning himself somewhere above and to the right of his Democratic Party, Mr. Cuomo has–for the first time since before he became attorney general, really–returned to his liberal base, whose willingness to turn out and support him on Nov. 2 is no longer incidental.
With Mr. Paladino loudly, annoyingly spoiling for a fight, and with editorial boards from the Buffalo News to The New York Times urging the attorney general to articulate his differences with the Republican nominee, Mr. Cuomo made a stylistic shift back to the party's traditional rhetoric, reminding Democrats why they can and must make it to the polls.
"Do I believe in progressive politics?" he asked himself on Sunday, in response to a question about conservative upstate voters. "Yes, I do. And do I believe, especially in these times, you have extremist political forces at work? You listen to what some of these people in the Tea Party are saying, you listen to rolling back a woman's right to choose in the State of New York. And do we have to stand up against that? One hundred percent right."
Ten days earlier–just after Mr. Paladino's primary win–Mr. Cuomo had answered a question about the Tea Party by saying he shared their economic frustration, and, while eschewing party labels, he had suggested those angry masses might well consider him as their candidate, too.
On Wednesday, Quinnipiac demonstrated the potential volatility Mr. Paladino brings to the campaign, when it released a poll showing the race to be a 6-point contest. (Subsequent polls put the margin at more than 20.) In the days since, Mr. Cuomo has focused on energizing some Democratic strongholds.
"He could start drumming it up a little bit more here," said Paul Brown, the president of the Buffalo Building Trades Council, who joined Mr. Cuomo for a fund-raiser in Buffalo on Friday night. "I think the Democrats are with him, but they all have a race now, so they're all kind of scrambling. They have a race, so they're going to have to get their asses moving."
The last time Mr. Brown saw the attorney general was when he drove 70 miles to Hinsdale, in Cattaraugas County, to catch Mr. Cuomo on one of his summer RV tours. "For some reason, Cuomo stopped there in some pancake place," Mr. Brown said. "I don't know why–it's all Republicans there. And Republicans introduced him, because there are no Democrats."
While Mr. Cuomo continues to tout his Republican supporters, he is, of late, back to playing to a mostly Democratic crowd. On Friday, a few hours before the fund-raiser in Buffalo, Mr. Cuomo pitched his big tent in Rochester, on the lawn of the Plumbers and Pipefitters Local 13, in front of "50 partisan supporters" (according to one local paper). The attorney general was introduced by David Gantt, the longtime Democratic assemblyman and local black leader.
Before the event, Mr. Gantt had required a bit of reassurance about his party's nominee.
"Where are you on the issues that concern me?" Mr. Gantt said he asked Mr. Cuomo, rattling off housing, health care and the one he called his "bellwether"–mayoral control of Rochester's schools. "I did not have it clear," Mr. Gantt told The Observer after the event. "But he quickly reminded me that he had been out there [on mayoral control] for a long time." Mr. Gantt said he would do everything he can to make sure Mr. Cuomo gets elected.
Some constituencies might be harder to satisfy than others.
"Unless you're out there giving speeches, there are going to be detractors," said a source in the gay community. "So it can be tough in that regard. But I think the predominant view in the community at this moment is a little wait-and-see." (The Empire State Pride Agenda, for one, is waiting to see whether Mr. Cuomo attends its Oct. 14 gala, for which the attorney general has yet to RSVP.)
On Monday, Mr. Cuomo scheduled a base-building trip to Harlem, a few days after an editorial in the Amsterdam News had excoriated the attorney general for not being more of a presence in the black community.
The very next day, on his way back to Buffalo and Syracuse, Mr. Cuomo promised Good Day New York that he would be spending more time in Harlem, and everywhere else. "Are there people in New York who want more attention?" he said. "Yes. And I understand that. And there are a lot of upset people, and they want to know that the next governor is going to pay attention to them. And I will. And I want to show them that."
Mr. Cuomo was making that pledge less than 24 hours after a shaky appearance on 125th Street, where he had been heckled by some of those upset people–a loud contingent carrying the banner of the Freedom Party, the protest party formed by Councilman Charles Barron to oppose the Democrats' all-white ticket.
"CUO-MO! GO HOME!" they shouted, and, in a sign of the depth of their disaffection: "PALADINO, CUOMO! DIFFERENT NAME, SAME GAME!"
The group hounded Mr. Cuomo as he tried to find some voters to greet, before he eventually ducked into a cultural center, arriving early for a scheduled summit with local black leaders, and leaving the Freedom Party to celebrate outside.
At a press conference after the meeting, Mr. Cuomo stood alongside party stalwarts Carl McCall, Bill Thompson and Charlie Rangel, who denounced Mr. Paladino in turn, and generally did their best to drum up enthusiasm for Mr. Cuomo. The candidate, for his part, referred to Mr. Paladino and his Tea Party as "extremist," and promised a new urban agenda to be rolled out in the coming days–roughly four months after the publication of his 250-page policy book, for anyone who might be counting.
rpillifant@observer.com