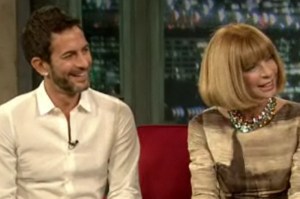 Worlds collided last night as Anna Wintour and Marc Jacobs stopped by Late Night with Jimmy Fallon to promote Fashion's Night Out.
The usually nervous host seemed at ease with the pair as he promoted the event as "this amazing, uh, night out" that features among other things "a crazy-awesome performance by something."
Fallon also addressed Wintour's "day job," picking up the September issue of Vogue and praising it for its heft. "726 pages in one magazine," he said, dropping it on its desk and extolling its value per pound. You should see the French version!
"We were meant to talk about Fashion's Night Out," Wintour says quietly later.
It's worth watching if only for the interactions between Jacobs and Fallon.
"So if a celebrity wears your stuff, like a Sofia Coppola, is that like a big break for you?" Fallon asks.
"Well Sofia's a friend…" Jacobs trails off. "It doesn't hurt."
See Jacobs' response to the question "What is the new black?" below!
The relevant interview occurs around 17:30.