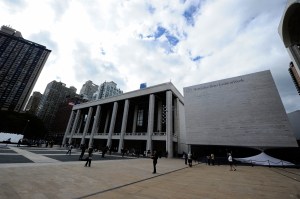 "Here, close your eyes," Hearst president David Carey told the Observer. Mr. Carey, dressed like The Publisher in a Gray Flannel Suit with a red tie, held a copy of the September Marie Claire in his hands.
Mr. Carey dropped the magazine on the floor. Thwack.
"It didn't sound like that in January!" Mr. Carey said, grinning.
"We call that the thud factor!" said the magazine's publisher Nancy Berger Cardone.
It was back to school night last night for the boys and girls of the Hearst empire, and if you closed your eyes long enough you'd think it was the '90s — or maybe just a party full of slightly stressed magazine folks putting on a brave face. Though the event was technically a Fashion Week party, it was by all means a coming-out night for the new principal at the Hearst Tower on Eighth Avenue. Mr. Carey stunned the media world earlier this summer when he abruptly left Four Times Square to become the head of the magazine division at Hearst.
Glasses of Prosecco flew around the patch of Lincoln Center behind Jonathan Benno's new Italian restaurant. A low wall made from rectangular blocks of ice stacked two-high separated guests from foot traffic coming from 65th Street. The DJ blasted "Freedom" by George Michael. Say, when was the last time Hearst had a party like this?
"This is the first year," said Cathie Black, now chairman of Hearst after giving up her job to make room for Mr. Carey. "You know, a lot of these people were operating at a loss several years ago. It's like a coming-out party."
Mr. Carey was holding court by the entrance to the party, speaking with Esquire editor David Granger, when the Observer asked him to explain the difference between Hearst and Condé Nast.
"The cafeteria!" Mr. Carey said. "The sushi is really terrific at Hearst. I enjoy the sushi."
Not that his summer hasn't been without a little getting up to speed.
"I feel a lot of pressure," he said. "Email me at 3 o'clock in the morning and see how quickly I get back to you."
He was quick to add: "I love my job."
Yes, but how does everyone else feel about their new corporate boss?
"So far so good," said Town & Country editor Stephen Drucker. "It's great. He's doing his job. So."
Where's that Prosecco!
"You may notice my husband has a black eye," Marie Clarie editor Joanna Coles said. "Various people have suggested that I might have hit him."
Here we go. Never mind about Mr. Carey and Hearst. Please do go on.
"The real story is that we got a dog at the weekend. And in his excitement to let the dog out of the car, the car door hit him in the face," she said.
Anyway! What's Hearst like these days, Ms. Coles?
"It's very hard to get jaded when you work in a Norman Foster building," she said. She was standing in front of the reflecting pool with Henry Moore's sculpture of gigantic vertebrae at her back
"Everyday you feel like you're an extra in a movie," Ms. Coles said. "That's what it feels like working at Hearst." She suggested that if Oliver Stone were making a movie about the magazine world, he would film it in the Hearst offices.
Assorted cookies came by.
"I'm just going to pinch one of these. Don't tell anyone, but I'm having a carb," she said. She picked up a cookie.
"I like being busy. I love being busy. I get up early. I'm like Margaret Thatcher," she said. "'Never underestimate what you can do in 10 minutes!' which is Margaret Thatcher's motto. And actually it's very useful for Fashion Week. You can do a lot in the 10 minutes between different shows. You can do a lot in the back of a cab."
Well the party is running late, so the Observer better get going.
"We're very excited to have David," said Harper's Bazaar editor Glenda Bailey. "He's come with lots of enthusiasm and great ideas. I think that's what it's all about."
We asked Ms. Bailey if editing her magazine had become less fun in the last few years.
"Harper's Bazaar is up by 11 percent on the newsstand." Ms. Bailey paused for five seconds and stared into the Observer's eyes. She blinked emphatically.
Then Ms. Bailey stared for a few more seconds. "We're up in advertising," she added.
zturner@observer.com / @zekeft