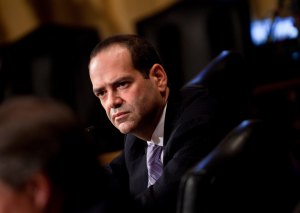 As the end of the Troubled Asset Relief Program draws near, the agency that hunts down fraudulent recipients of bailout funds is staffing up and ratcheting up its efforts.
Reuters reports that the office of the TARP Special Investor General, which also goes by the spy agency – sounding name TARPSIG, plans to expand its office to 160-plus staffers from a current level of 140. It's also setting up satellite offices in Atlanta, Los Angeles, San Francisco and — you guessed it — New York. The reason, TARPSIG chief Neil Barofsky says, is "criminal investigations."
It turns out that as the government began doling out handouts to bankers, some companies may have falsified their earnings statements and other documents to qualify for Uncle Sam's cash. And then of course there are the banks that have welched on their dividend payments.
The cost to taxpayers from TARP-recipient bank failures so far is around $3 billion, including $2.33 billion lost in CIT Group's bankruptcy.