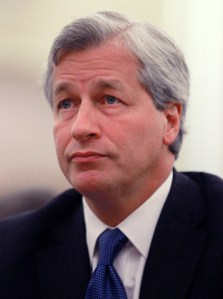 Two of the biggest names in the banking space — JPMorgan Chase CEO Jamie Dimon and Bank of America head Brian Moynihan — spoke today on the primary issues affecting their companies and shed some light on what their stewardship will look like going forward.
Appearing as the keynote speaker at a conference hosted by Barclays Capital, Dimon said that he intended for his firm to shift its credit default swaps and commodities swaps into a subsidiary. The change is an effort to conform to financial reform legislation signed into law by Barack Obama in July. Dimon said that the shift was unpleasant and "ill conceived," and would cost his company about a billion dollars in revenue. Dimon also said that the company is looking to grow its international business going forward.
At the same conference, Moynihan said Bank of America would focus on cross-selling — the practice of selling additional products to existing customers — and would strive for steadier, if less mountainous, profits. He said that part of his firm's response to the financial-reform legislation would be to increase minimum balance requirements and charge additional fees. The company expects to lose billions of dollars in revenue thanks to the new rules.