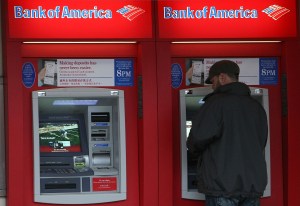 As the idea of a slowdown for Wall Street's big players crystalizes, Bank of America is gearing up to lay some people off, according to a report by Fox Business' Charlie Gasparino.
The cuts are neither very deep nor very wide, according to the report; 5 percent of workers in the company's least profitable businesses stand to lose their jobs. Gasparino's sources are saying that the move is an attempt to avoid having to pay year-end bonuses. For the second quarter, BofA reported lowered profit and revenue thanks in part to a more than 50 percent decline in investment bank trading revenue.
The report follows predictions by bank analyst Meredith Whitney that thanks to a very slow year, banks will collectively be forced to reduce headcount by between 40,000 and 80,000 employees.
Gasparino also said that Goldman Sachs and Morgan Stanley analysts are gearing up for lowered bonuses this year.