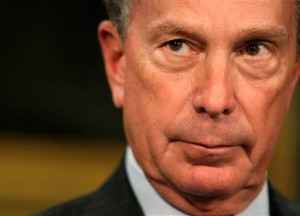 Calling the state government in "disarray," Mayor Mike Bloomberg delivered a full-throated endorsement of Andrew Cuomo for governor this morning at City Hall Park, and seemed to suggest that Cuomo's opponent, Carl Paladino, lacks the temperament to govern the state.
"Anger is not a governing strategy. We need real change. We need new strategies. We need leadership," the mayor said. "We need someone who has the guts to take on the entrenched interests and the skills to work with the legislature to get things done."
When asked, the mayor said he was not referring to Paladino.
"I am stating a fact. The public is mad, frustrated. I understand that. You see that across the country. But what the public wants is progress. What they are frustrated about, what they are angry about is the partisanship that has taken over the political process."
Cuomo said that he too feels the rage of the voters that Paladino has apparently tapped into, especially in light of a poll out today that shows the race to be narrowing.
"I am angry. The mayor is angry. You take a poll, are you angry, 100 percent are angry. How can you not be angry?" Cuomo said, adding, "Okay what do you want to do? We can have an anger party, celebrate our anger. Or we can say let's take that anger, let's the energy, let's focus it and actually do something to correct the problem."
Cuomo's anger with state government however was slightly tempered by gratitude, at least for the day. At the end of his prepared remarks, Cuomo reached his hand out to Bloomberg and said, "Thank you, thank you, thank you."