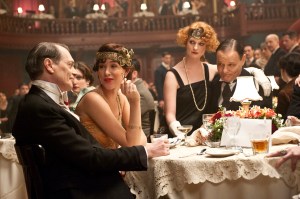 The Transom was all set to interview Nelson Johnson, a New Jersey Superior Court trial judge and the author of Boardwalk Empire: The Birth, High Times, and Corruption of Atlantic City, the little history book that inspired the big television show of the same name. Then a strange message arrived in our inbox from Mr. Johnson's publicist: "I'm afraid Nelson Johnson has been required to cancel all appearances related to his writing, pending a formal decision by the NJ Superior Court." Of all the times we have had a story fall dead in the water, this was new.
According to Mr. Johnson's publisher, Plexus Publishing, a regional firm based out of Medford, N.J., the state court has ordered the author to cease his extrajudicial activities due to concern that his self-promotion is stepping outside of the bounds of what is ethical according to the state code of conduct for judicial employees. This week, Mr. Johnson will make a counterargument to the Advisory Committee on Extrajudicial Activities, the publisher said.
"We don't know what the ultimate decision will be," said John B. Bryans, Mr. Johnson's editor and the editor in chief of Plexus Publishing. "We're hopeful, but the New Jersey court is going to do what they're going to do."
The guidelines on extrajudicial activities state that judges may "receive royalties from books authored before assuming judicial office," "contribute to a feature column in the New Jersey Lawyer" and "serve on an advisory board of Judicial Associate Editors" (among other very specific regulations), but there are no guidelines regarding the promotion of a book that has been made into a television series by HBO.
"The court-related duties of a judiciary employee shall take precedence over all outside activities," says Canon 5 of the Code of Conduct–"Outside Employment and Other Outside Activities." Judiciary employees are also prohibited from "outside employment in the casino industry" and may not "engage in outside employment when the primary function of such employment is dispensing alcohol by the drink." Those feel like relevant details in a discussion about Atlantic City.
The final decision could take months, Mr. Bryans said, and could not have come at a worse time for the small publisher, which distributes books mostly in west New Jersey and just across the state line in Pennsylvania. Plexus Publishing has printed 85,000 copies of Mr. Johnson's book, with a new foreword by Terence Winter, the show's lead writer and a veteran of The Sopranos. Though the author has been muzzled, Plexus is "hoping for a best seller in a couple of weeks," Mr. Bryans said.
Mr. Bryans acquired the book in 2002 as an unsolicited manuscript from Mr. Johnson, a trial attorney and amateur historian at the time who had never published anything before. The book has sold "no more than 15,000 copies" up to now, Mr. Bryans said, mostly in and around Atlantic City.
Mark Wahlberg and his partner, Steve Levinson, acquired screen rights to the book in 2006. Plexus and HBO declined to comment on how much the rights were sold for, but it is undoubtedly a higher sum than Mr. Johnson's advance when Plexus acquired the book. Martin Scorsese directed HBO's pilot episode of Boardwalk Empire, starring Steve Buscemi as Nucky Thompson, a crook and political boss in Prohibition-era Atlantic City, based on the real-life Enoch Johnson (no relation to Nelson). The series will premiere on Sept. 19. Mr. Johnson is credited with inspiring the story. The pilot cost $20 million to make.
"I don't even remember what the advance for the book was at this point," Mr. Bryans said. "It was a modest four-figure advance. It's amazing the book went on to be one of the most expensive television series ever produced."