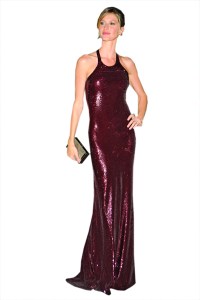 Brazil's most celebrated export is its inexhaustible quality of extraordinarily beautiful women. At the 8th Annual Gala for the Brazilian Foundation in the Metropolitan Museum of Art, there was no shortage of stunners, many of whom were sheathed in colorful column dresses that made them look like exotic tulips imported for the evening. Fernanda Motta, one of the evening's co-hosts and star of Brazil's Next Top Model, kissed The Observer by way of introduction, on both cheeks. "This is the Braaazeelian way." A tanned Lorenzo Martone, Marc Jacob's ex and chair of the gala, slid his arm around her tiny waist and chimed in, "Sorry to interrupt, but I just had to kiss this goddess!" When asked about the similarities between the U.S. and Brazil, he had this to say: "Brazil and America are young continents, and there is an almost teenage energy and dynamism, in comparison to older places like Asia or Europe." When asked why Brazilian women are so good-looking, he deadpanned: "It's in the water."
A sudden stampede of photographers signaled the arrival of Gisele Bündchen, Brazil's unofficial queen. Wearing a maroon, shimmery Calvin Klein backless dress, which flashed like a mermaid's skin as she glided around the room, Gisele was gracious and smiling even with four tape recorders in her face. She spoke with enthusiasm about yoga. "It's funny because people think that yoga's an exercise, and I think it's a philosophy." Pointing two fingers toward her temple, she noted, "I keep up with yoga for my sanity."
She broke off as the Brazilian national anthem was played by pianist João Carlos Martins. Afterward, as the crowd drifted into the Temple of Dendur for a three-course dinner, The Observer caught sight of Brazilian socialite Andrea Dellal in a two-toned leopard number sporting a pair of towering, purple plastic shoes: "They were designed by my daughter, Charlotte," she trilled.
The fund-raiser, led by Nizan Guanaes, chairman of Grupo ABC, got off to a slow start until Gisele offered to auction the dress off her body, which Mr. Guanes bought for $50,000. Later, Madonna phoned in with a donation of $25,000. The total amount raised was $2.5 million for an array of charities in Brazil.
At the after-party at the Boom Boom Room, the featured drink was the caipirinha, a combination of sultry-with-a-kick cachaça liquor and muddled limes and sugar that can be tough to find if you're not actually in some tropical paradise. The mood was even more convivial that usual, with attendees greeting each other with loud exclamations and flurries of kisses. Portuguese mixed with English.
As midnight neared, the party had filled up, and even the pool table had couples posted on its ledges, resting bottles of Champagne on copies of Brazilian Vogue. The Misshapes shared the DJ decks with Julio Santo Domingo–brother of Tatiana Santo Domingo, who's dating Andrea Casiraghi of the royal family of Monaco. Jim Carrey arrived to find himself surrounded by rubbernecking passersby, and Kevin Spacey made his way among the masses.
Then, as we found ourselves behind the DJ booth, Anne Hathaway trotted in wearing a black bowler hat. We asked her where she picked it up. "I got it when I was in Paris shooting One Day," she told The Observer. "It's an Austrian brand, um, allow me to use your phone as a flashlight," she said as she took the hat off and gestured to our iPhone.
We obliged, and stuck the phone inside the hat to find the label. "Here it is: Muhlbauer," she announced. "Muhl-le-bauer," she said again, with a put-on accent. "I didn't know I was coming to such a fancy party tonight, but apparently a hat can take you anywhere."
The Boom Boom Room began to empty out around 1:30 in the morning, but that didn't stop a baseball-cap-wearing Leonardo DiCaprio from showing up and bringing photographers into frenzy mode.
—Daisy Prince and Nate Freeman