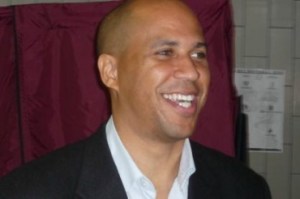 NEWARK – Mayor Cory Booker told reporters in a conference call a few minutes ago that other philanthropists are coming forward for Brick City "even as we speak," in the aftermath of Facebook maven Mark Zuckerberg's committment of $100 million in grant money for the Newark Public Schools System.
"I'll put my bet on Newark," said Booker, who along with Zuckerberg and Gov. Chris Christie took questions following a morning taping of the Oprah Winfrey Show, which is scheduled to air at 4 p.m.
"I'm putting everything on the line – my relationships and frankly, my career," said the mayor, adding, "my relationship with the governor is contingent on results."
Five years are built into Zuckerberg's grant.
"This is a multi-year effort that has to start now," said Christie, who noted that both Booker and Christie have four and three and a half years respectively in their current terms. "We have to show success within that period of time. What's the alternative? Right now, there is an almost 50% dropout rate (in Newark Public Schools)."
The trio convened for Zuckerberg's formal anouncement of the creation of a new foundation – Startup: Education, as the starting point for his gift to Newark. Booker subsequently announced the kickstart of the Newark Education and Youth Development Fund, a separate non-profit organization with a goal of securing an additional $100 million to match the challenge grant available through Zuckerberg's foundation, as well as an additional $50 million to serve disaffected youth, according to the governor's office.
"Mayor Booker and I are thrilled to accept Mark Zuckerberg's challenge – to work with the Newark community to dramatically elevate the potential of public education in the City of Newark, throughout New Jersey and across the nation," said Christie. "Collectively, we believe the best way to secure and improve our nation's future is to create the highest quality public education system in the world. There is no better place to begin this journey than in Newark, a city of both great progress and potential."
The specifics about how Booker and Christie would apply the money in Newark remain unclear. Both men share campaign contributions from donors affiliated with vouchers outfit Educational Excellence for Everyone (E3), but Booker said Zuckerberg's grant would be dedicated alone to public school education. What percentage would go toward public charter schoools and what to district schools – again – is not yet clear, though Zuckerberg in the Q and A with reporters said, "Cory has put together a plan for Newark."
For the moment, it was mostly energetically vague.
"Mayor Booker and Governor Christie refuse to accept the status quo in public education," said the Facebook founder. "They insist on demanding more for young people now so that they will be fully prepared for success in college, careers and in life. Each of these leaders is prepared to make bold commitments that will make Newark a symbol of education reform. Their personal commitments – and their willingness to cut through the politics and red tape to collaborate – persuaded me to support them and make a commitment of my own."
Booker and Zuckerberg met at a conference and when the buisnessman listened to the mayor talk about moving into "the most dangerous parts of Newark and his personal dedication," he decided to invest in Newark and "I'm investing in Cory as well."
An unflattering Hollywood movie based on Facebook comes out next week, and the 26-year old Zuckerberg shot down the notion that he unveiled this charitable announcement this week to blunt the negative impact of the film. In fact, he said, he wanted the donation to be anonymous, but Booker talked him out of it, arguing in a cellphone conversation on Ferry Street in the Ironbound that a faceless contribution would generate suspicion in the city.
"We're grateful that this young, innovative entrepreneur is so dedicated to helping create the next generation of successful entrepreneurs and leaders. Improving the quality of public education and increasing student achievement in Newark is a top priority of my Administration, and I am so grateful that Mark Zuckerberg shares our commitment and belief in the genius and limitless potential of Newark's students," said Booker. "We know that investing in educational excellence today will create the foundation for Newark's prosperity and competitiveness in the decades ahead. With this incredible investment and the steadfast commitment of our school leaders and teachers to improve youth outcomes, it is my belief that the pathway to nationwide public education excellence starts in Newark."