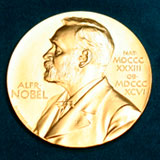 With time running out to place bets on the novels shortlisted for the Man Booker Prize before the winner is announced on Oct. 12, literary gambling aficionados can now direct their attention to the writers in the running for the Nobel Prize. The spread that's up on the British betting site Ladbrokes.com has Swedish novelist Tomas Transtomer in the lead, at 5 to 1 odds, with Adam Zagajewski and Ko Un close behind. But The New Yorker, which has a tidy roundup of this whole high-lit betting business on its Book Bench blog, explains that those sitting pretty right now probably won't be the ones to prevail in Stockholm.
Herta Müller, last year's winner, was given 50/1 odds, while the 2008 winner, Jean-Marie Gustave Le Clézio, was 14/1 on that year's board. The Nobel's picks in literature are often quirky; Ladbrokes might get killed if more punters cared about such things.

Even with this element of unpredictability, there's no real reason to hold out hope for a major American writer. The few stateside writers on the list end up somewhere in the middle of the spread: Philip Roth shares his 18 to 1 odds with Joyce Carol Oates, Don DeLillo and Thomas Pynchon (though in Pynchon's case, it's tough to give an award to someone who has barely been seen in the flesh in decades.) Bigger longshots include Salman Rushdie and Cormac McCarthy at 66 to 1 and Julian Barnes at 75 to 1.
Bob Dylan is placed squarely at the end of the list, with pretty insurmountable 150 to 1 odds. Last year, Dylan's bizarrely solid 25 to 1 odds spun gamblers' heads, but during the last 12 months the singer's stock seems to have fallen. What, making an inexplicable, rough-throated album of classic Christmas songs hurts your chances of winning a Nobel? Criminal, we say, criminal.