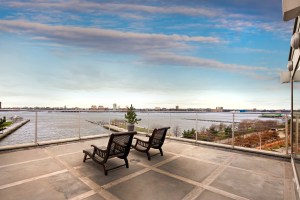 If there's one thing we've learned from the Novogratz family, it's that two are always better than one – if not six or seven.
With this in mind, Prudential Douglas Elliman broker Raphael DeNiro has called in some assistance from Paula Del Nunzio of Brown Harris Stevens in moving the Novogratzes' latest creation, a slender West Village townhouse with a hefty price tag.
The new listing for 400 West Street, where the asking price is currently $18.95 million, will go up this weekend. According to Ms. Del Nunzio, the co-exclusive expands the pool of potential buyers to no less than "Downtown, Uptown, and throughout the world."
Of course, we've heard this kind of optimism from a new broker before. When Mr. DeNiro took over from two other BHS brokers, Wendy Maitland and Susan Green, in November he said he was confident the then-$25 million price was "appropriate" and the market had improved dramatically. "People are buying eight-figure properties again," he said.
Now 10 months and a $6 million price cut later, here we are.
Still, if anyone can figure out the formula for moving an uber-expensive 22.75-foot townhouse, surely it's the first family of house flipping. The ever-growing brood of nine fixed up the spot up for Design Sixx, with at least a couple over-the-top reality TV touches. Miraculously, the slender house features a basketball court and a two-car garage.