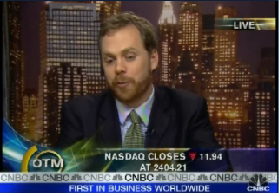 CNBC announced the launch of former Clusterstock editor John Carney's blog yesterday. It's called NetNet, and Mr. Carney will fill the space with a mix of what he calls "inhuman interest" stories, original reporting and hard news.
We asked Mr. Carney how the blog would be different from Clusterstock
"It's different in two ways," Mr. Carney told the Media Mob over the phone from CNBC's offices in New Jersey on Wednesday evening. "The first being that at Business Insider it was really strategizing to be a full service news site to cover all news all the time. You can see that in the posts and the volume they crank out. CNBC is already a full service business news location, so I don't need to do that."
He said he will look for what he calls "inhuman interest stories." With Joe Pompeo he used the example of "what kind of lunch they serve to traders at Deutsches Bank."
"We're not in a death match — three blogs enter, one blog leaves," Mr. Carney said. "I think the audience for reading Wall Street news and financial news is expanding. I think there's plenty of room for a NetNet and a Clusterstock and a Dealbreaker."
Business Insider boss Henry Blodget fired Mr. Carney in the spring, right?
"They eliminated my position," Mr. Carney said. "I'm very happy with my setup now. Things could not have gone better for me. I have no resentment and no antipathy for Henry."