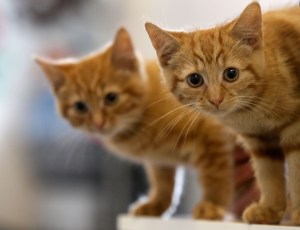 Today, the Post, via Courier-Life, uncovered what it calls a "classic cat scam" that recently struck Park Slope: a woman gave away her kittens via the internet only to see them resold immediately afterward.
The victim, Louise Holmes, sold her two kittens Pippi and Denver to a woman known only as "Unique," who promptly sold them for $50 each. The article says she did this via Craigslist, but in our cursory research it seems that such transactions are forbidden there so maybe they're using the term generically, like Kleenex.
Unique, for her part, was indignant. "You still gave them away to me for free, no contract," she said. She's apparently pulled this scheme before in Greenpoint, but now it seems she's going upscale.
Long-term cat investment is, of course, a well-established practice. You buy a cat on the cheap and with time and money make a few improvements (haircuts, adorable outfits, etc.) to sell it for a profit. But, as the deck of the Post story says "this is just despicable."