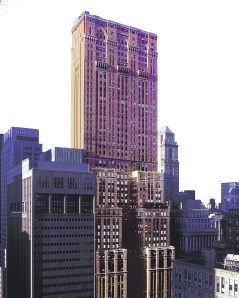 One Grand Central Terminal
The deals are arriving at One Grand Central Terminal more reliably than the trains. Charles Schwab & Co. will triple its space to 11,000 square feet for 10 years.
The financial services firm, which caters to retail clients, will take two floors with 55 feet of street-level frontage. More than one million pedestrians pass by daily during the holiday season, according to a release.
"In recent years the neighborhood has become a seven-day-a-week retail hot spot," said Fred Posniak, of landlord W&H Properties. "It's hard to beat this location."
Following an $85 million renovation, the mammoth building with its own postal code inked more than 260,000 square feet of deals last year. At least a few more have been signed this year, including with Ales Group and the Spanish Tourism Agency. Much of the building's space has been filled with small deals, under 25,000 square feet each.
Paul Spiegel of Scopa Real Estate and Steve Soutendijk of Cushman & Wakefield represented the tenant. Amira Yunis of Newmark Knight Frank represented the landlord.