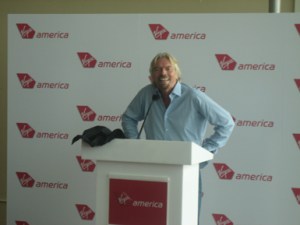 Brace yourselves for months of "in bed" jokes. After much whispering, the Virgin Group is finally launching its new hotel chain and New York is definitely on the list.
"I've had great fun turning quite a lot of different industries on their heads and making sure those industries would never be the same because Virgin took them on," Richard Branson said in a press release. That is needless to say an understatement about the company that's conquered music, radio, soft drinks and air balloon flights, to name a few.
Virgin plans to operate and develop up to 25 hotels within seven years, with the first property expected to open within 12 to 28 months. "First class lounging" is a key consideration for the ultra-hip chain, who brought us the Newark International Airport lounge with jazz music, a Sony Playstation and delicately poached salmon.
For acquisitions, the company is targeting four-star facilities with 150 to 400 rooms and generous communal spaces. "Fancy getting to bed with Virgin?" asks the characteristically cheeky press release. Willing property owners are encouraged to e-mail the company.
The first hotel is expected to open in an unnamed innagural American city in the coming months. Fingers crossed.
lkusisto@observer.com