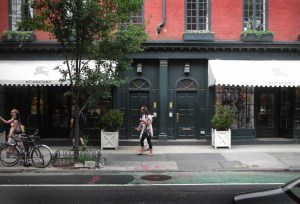 367-369 Bleecker Street
In the West Village, it's out with the old, in with the plaid. Burberry Brit will open a double-front store in November on a prime retail corner.
From its spot at 367-369 Bleecker Street, the preppy Brit will rub elbows with such country-club friends as Ralph Lauren, Michael Kors and Brooks Brothers. It will occupy space recently vacated by an antique store, making it one of several high-end retailers to snap up spots occupied by the area's dying independent retailers.
When the 1,800-square-foot space became available, "one of the first tenant names that came to mind was Burberry," said Kevin Comer of landlord Beck Street Capital.
"We believe that Burberry will utilize this picturesque, perfectly located and extremely unique space to its fullest extent," he added. The retailer will pay a premium for the spot, however. The asking rent for the 10-year lease was $525 a square foot, sources told Crain's.
Burberry's new line of very nearly affordable weekend wear has snuck on to the Manhattan retail scene. Two Burberry stores have opened in the past year, one on Madison Avenue and the other on Columbus Avenue.
Joel Isaacs and David Baker of Isaacs and Company represented the landlord. Joan Siegel of Siegel Consultants represented the tenant.
Crain's first had news of the deal.