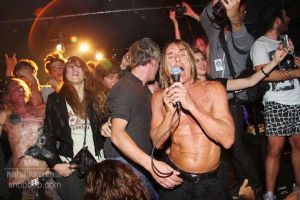 Iggy Pop, in all his full shirtless and sweaty glory, stood gripping the mic stand on stage at Dasha Zhukova's Pop Magazine party at Don Hill's last night. It was the most buzzed-about event of Fashion's Night Out and chances are, if you were there, you were there for a reason.
Too bad Iggy Pop doesn't give a fuck about your reason.
"I think we're all aware it's Fashion Week in New York City," Iggy growled to the mass of beautiful attendees. "Just remember, fashion people, your pretty face is going to hell."
That set the tone for what can only be described as a raucous bash at Paul Sevigny's just-opened and hotly anticipated new project, Don Hill's. The civilized Soho shop-hopping of earlier that night was like a far-off memory now that Iggy and the Stooges had plugged in.
The place had a very tough door. Even with an invite, The Observer had to fight doormen, a police squad and a crew of performers on stilts to get into the spot. Even Patrick McMullan had some trouble breaking through the fray to secure his entrance. But once inside, we had crawled into a graffiti-soaked, smokey, punked-out, porn-on-the-walls sin den where the actresses, pop icons and models had cast off the sterile runways in favor of bopping around to rock's original purveyor of violence, Iggy Pop.
The Misshapes spun James Brown and other soul classics as roadies wheeled in gear and sound-checked, and everyone took full advantage of the open bar. As start time approached, Gwen Stefani sat perched on a ledge, cradled by hubby Gavin Rossdale — who, like most of the rockers of the last 40 years, owes his entire forgettable musical career with the band Bush to The Stooges. Terry Richardson was drinking a beer in those gray-rimmed glasses, his camera slung over his shoulder. Nicky Hilton sat up with Ms. Zukhova. There was the expected beard-wearing contingent and many of the girls were dressed as though they had come stright from uptown.
We found artist Jeff Koons nursing a drink over toward the back, and asked him about Iggy's influence on his own art.
"I've always loved his work," Mr. Koons told us. "I put an image on the top of a yacht, on Dakis Joannou's boat—it's called Guilty, it's a big yacht in the mediterraenean. There's an image of Iggy there, on top. I think Iggy's like a god, like a greek god. When people move you to that level they're like Apollo or Dionysus."
Photographer and downtown art favorite Ryan McGinley had on a zipper-heavy leather jacket and skinny black tie. We deadpanned to him about whether he was excited or not for the show.
"Hell yeah! What are you crazy?" he told us, adding that he's seen Iggy perform three times.
Minutes later the man himself came onstage, launching into the title cut off Raw Power, the loudest album ever recorded. Then, as the guitarist hammered the spitfire riff to "Search and Destroy," we looked down to find Mary-Kate Olsen — or was it Ashley? Don Hill's is a dark and hazy place — right next to us, trying to crane her neck to see Iggy. Gwen Stefani, still perched on a bench and wearing that deep red lipstick, nodded along with some of the tunes and occasionally closed her eyes, swaying. At Iggy's insistence, an unruly moshpit broke out, giving him a chance to do some stage-diving and crowd-surfing. We saw McGinley right in the thick of it.
Oh, also, The Stooges were a revelation. Somehow all the decades of heavy drug use turned Iggy into a promethean marvel — he pranced, jumped, yelled, spat, and sounded not a inch out of his prime. The power of it all forced the crowd into full-on Doubting Thomas mode: they reached out their hands, because they had to touch him to believe he was real.
On the other end of Don Hill's, Paul Sevigny was standing atop the bar, not far from two girls stripped to their undewear who were also elevated and dancing. Eventually the bartenders started spraying water all over them, and Mark Hunter AKA the Cobrasnake — who was wearing the same "ironic" American Online cap he had rocked the night before at the Chanel Soho opening — was on hand to capture this wholesome moment for posterity.
After the set ended many of the big names headed out, leaving a crowd that was mostly hip skinny kids dancing to Gang of Four (which is still pretty cool). Before we called it a night, we chatted up the lovely Chloë Sevigny, who will probably be hanging around her brother's new place quite a bit.
"It feels kind of wild in here!" Chloë told us. "I was here last night as well and it just had a little sense of anarchy that I feel like New York is missing. I also think that it's really great because the crowd is really young and old, like, it's super mixed. It's what it was like at the Beatrice, and it's probably been missing since the Beatrice."
And so we can add Don Hill's to the long list of places deemed "The New Beatrice." But this time, with the backing of Paul, the endorsement of Chloë and a little help from Iggy Pop, we might be ready to choose a true successor.